What is "mi-gusto"?
Since 2007, Mi Gusto, Gourmet, Shopping and Lifestyle, has established itself as the leading guide to quality in the south of Tenerife. Published every four months in 4 languages, (Spanish, English, German and Russian), and with a circulation of 66,000 copies, it reaches nearly 300,000 island visitors.

And now it's available to download as an APP for Android and iPhone, completely free and without commitment. Just go to www.mi-gusto.guide.

The app, in the style of the magazine, presents a few selections of, in our opinion, the best sites on the island, including locations, attractions, activities, shopping and of course lots of choices for enjoying the culinary landscape.

Other recommendations including tours, medicine, transport and much more, make the app a perfect companion for organising holiday plans. As it is updated regularly, we can point you to daily specials and ideas for enjoying Tenerife at is best.

Sign up for mi-gusto on-line and benefit from coupons, tickets and special offers, and be inspired by the diversity of choice. You can store your search results in 'Favourites' and reserve and register via the app or online. No need to print, your coupons and tickets will be stored in the app.

Google navigation is integrated into the app also.

We particularly recommend checking out the 'accommodation' section when planning your next stay. We transmit your needs directly to our partner hotels, villas and apartments. There you will find many amazing deals, discounts and special benefits that are normally found only when booking directly with the proprietors.

Local car rental companies offer seasonal low prices and have special packages for you.

During your stay in Tenerife, let yourself be guided by 'Mi Gusto'.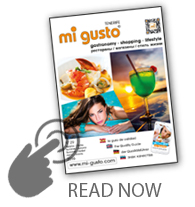 Promotion Video
Download free APP by QR

How can I become a client of "mi-gusto"?
Clients will be attracted by the motto of Mi Gusto. Can you imagine being a part of this exciting venture? Then contact us – we know you'll be happy!
Motto:
The Mi-gusto guide offers a wide selection of, in our opinion, the best sites in Tenerife, for both their creativity and their commitment to high quality and by convincing us with excellent presentation. The Mi-gusto.guide APP offers the user not only special deals and incredible locations, but also a point of service (guide, useful information, tips, offers, etc.) and will serve as a "Companion" to every visitor and resident of Tenerife.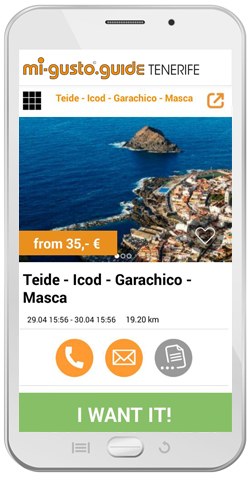 Contact Form:
To contact us, please use the Contact Form. We will contact you shortly.